AhaShop – WordPress Theme for Fashion Clothing Store
Download Now      Price : $60     View Demo
Choose me, if you just want to build a fashion simple website to start your small business.. I'm an online fashion clothing store WordPress theme only targets for SMALL to MEDIUM businesses. The theme also suitable for any kind of online store website like clothes man, clothes women, fashion kids, shoes, watches, jewelry, handbags & wallets, accessories, apparel store… Our desire is to help online business owners in building the fashion clothes online store website QUICKLY and EASILY in the beginning. It will be the FASTEST WAY to put products on the Internet.

The theme comes with WPBakery Page Builder, Flexible Slider, the latest version Woocommerce & WordPress, Bootstrap CSS framework, shop grid layout, mega menu, mobile-friendly, contact form, subscribe form and more.

100% fully compatible with the new version


3.9 WooCommerce
6.1 WPBakery Page Builder
5.3 WordPress

Last version theme 1.7.0 AhaShop
Question at HERE or Contact at [email protected]
Theme's guide here: http://guide.minwp.com/ahashop/

Demo Shop here
Home Page: See this
Shop Products: 2 column | 3 column | 4 column
Product Category: See this
Product details: See this
Collection Page: See this
Contact Page: See this
Scan QR on Mobile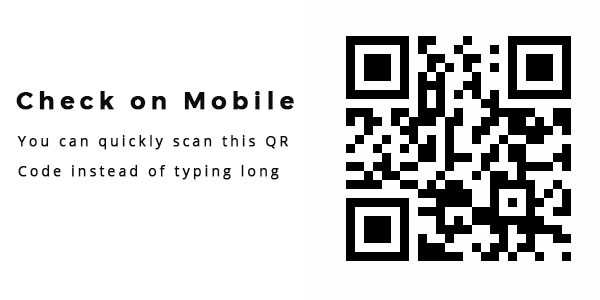 Client's Reviews
You can see more here: View now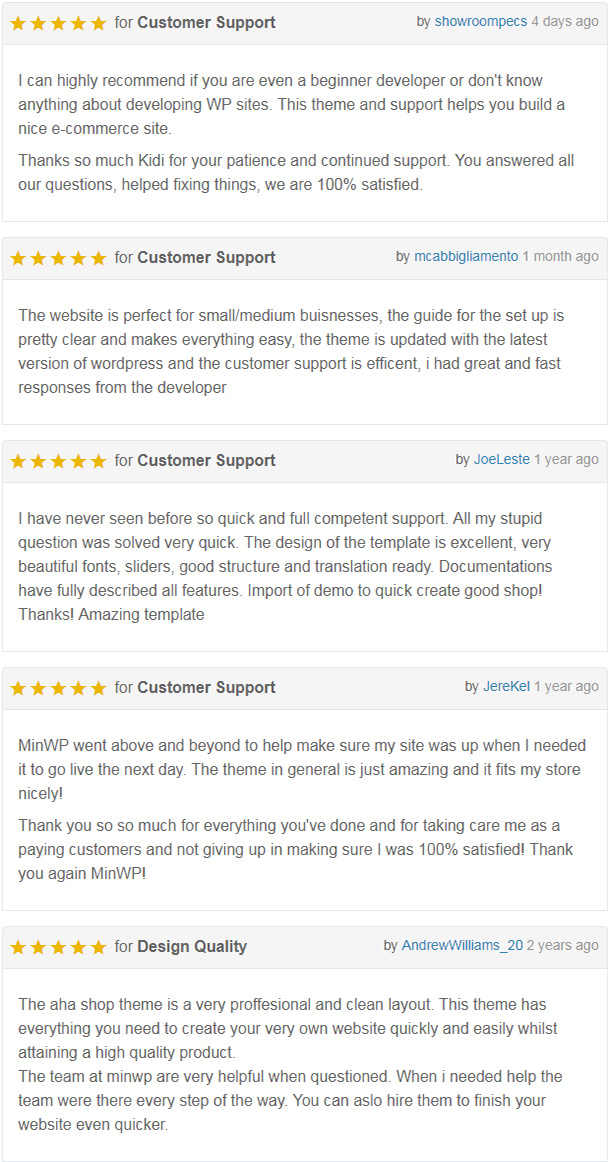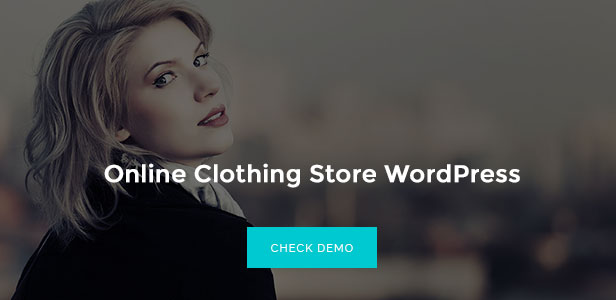 Features Overview
Drag & Drop WPBakery Page Builder
Compatible with WooCommerce 3.x
Edit style with Bootstrap CSS
Mobile Friendly Ready
Customizer Option Panel
Flexible Slider
Multi column Mega Menu
Header Fixed Optional
Full-width layout option
Sidebar layout option
Newsleter Subscrible
Quickview & Compare
Product Wishlist
Zoom in/out Product Photos
Contact Form
Collection Products
Blog List (Video, Gallery …)
Preload Animation Effect
Twitter Feed Automaticly
Speed and SEO optimized
Translation Ready
Google Web Fonts
Child Theme Customization
User Experience(UX) Perfect
Update logs

1.7.0 (Feb 02, 2020)

- Update: compatible with 3.9 WooCommerce
- Update: 6.1 WPBakery Page Builder version

- Add: highlight submenu
- Add: notification on header top
- Add: support for Text Logo type
- Add: show gallery of Instagram
- Add: fixed header options
- Add: custom footer columns



1.6.1 (Sep 27, 2019)

- Updating: compatible with 3.7.0 WooCommerce
- Updating: 6.0.5 WPBakery Page Builder version

- Fixing: customize color feature


1.6.0 (May 22, 2019)

- Updating: compatible with 3.6.3 Woocommerce version.
- Updating: 6.0.2 WPBakery Page Builder version.
- Updating: 1.4 Ahashop required plugin version

- Fixing: Remove line in Slider shortcode.


1.5.1

- Updating: translate some missed strings in Header



1.5

- Updating: compatible with 3.5.6 Woocommerce version
- Updating: 5.7 WPBakery Page Builder version

- Adding: On/Off Add to Cart button in Product list

- Fixing: Mini cart when no product added



1.4.4
- Updating: compatible with 3.5.1 Woocommerce version
- Updating: 5.5.5 WPBakery Page Builder version
- Updating: Ahashop required plugin version 1.3


1.4.3
- Updating: compatible with 3.4.3 Woocommerce version
- Updating: 5.5.2 WPBakery Page Builder version


1.4.2
- Updating: compatible with 3.4.2 Woocommerce version
- Updating: change search product box on header
- Updating: change CSS logo on desktop & mobile device

- Fixing: link on cart on mobile


1.4.1
- Updating: compatible with 3.4.0 Woocommerce version
- Fixing: Mega menu show off on mobile device



1.4
- Updating: WPBakery Page Builder 5.4.7 version
- Updating: Available with Woocommerce 3.3.5
- Updating: work fine with WordPress 4.9.6
- Updating: the layout of single product
- Updating: user experience better
- Updating: mobile appearance better



1.3
- Updating: WPBakery Page Builder 5.4.5 version
- Updating: Available with Woocommerce 3.3.1
- Updating: ahashop-required plugin 1.2 version
- Updating: the number of product per shop page setting
- Updating: the dimension of logo brand setting on desktop, tablet and mobile device
- Updating: border-color customize feature

- Fixing: Out of date templates from WooCommerce 3.3.3


1.2.1
- Updating: WPBakery Page Builder 5.4.4 version



1.2.0

- Updating: WPBakery Page Builder 5.4.3 version
- Updating: Available with WordPress 4.9
- Updating: Available with Woocommerce 3.2.4
- Updating: Adding IconBox CarouselShortcode
- Updating: ahashop-required plugin 1.1.0 version

- Fixing: Adding to cart
- Fixing: Importing example database


1.1.0

- Updating: WPBakery Page Builder 5.3 version
- Updating: Available with WordPress 4.8.1
- Updating: Available with Woocommerce 3.1.2
- Updating: Color customize function
- Updating: ahashop-required plugin 1.0.3 version

- Fixing: multi drop-down menu
- Fixing: slider responsive on mobile device


1.0.1
- Update ahashop-required 1.0.2 plugin

- Fix style variable product in quick view lightbox
- Fix variable product functional in quick view lightbox
- Fix responsive style on mobile device