Allegro – WooCommerce WordPress Theme for Equipment Stores
Download Now      Price : $59     View Demo
Allegro is a responsive WooCommerce WordPress Theme for Hand Tool, Machine Equipment Stores, Carpentry, Remodelling & Renovation, Construction business, etc. This excellent theme is packed with lots of pre-designed pages, awesome layouts and amazing styles to display your stores professionally. The theme is also fully responsive and Retina ready, which will be a great plus for your business.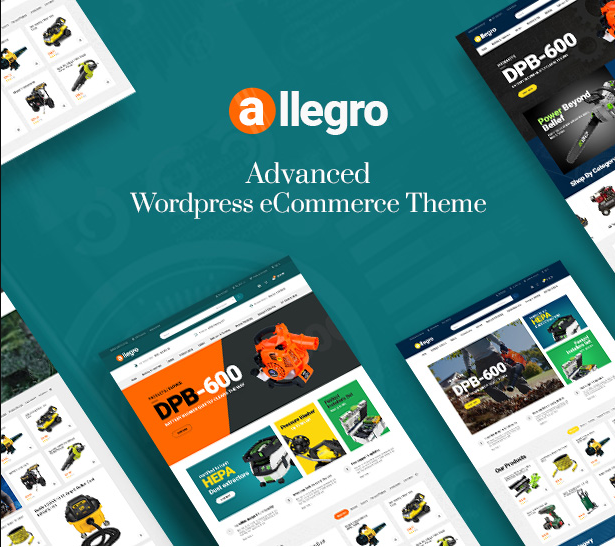 The advanced WordPress eCommerce theme Allegro is impressive with 05+ specific homepage layouts. For the layout you choose, you have complete control over the look and feel of your website, layout, colors and content. No coding skills needed, Allegro makes everything flexible.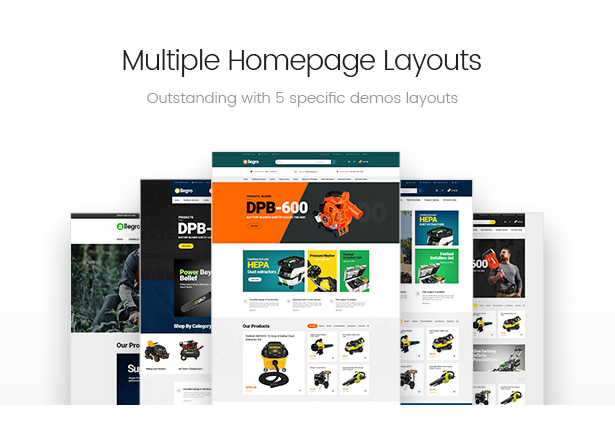 The theme is powerful with some powerful features such as Revolution Slider, Megamenu, Grid & List View, Quick View Product, Add to Wishlist, Powerful Search & Filter, Product Detail, King Composer, One Click Installation, Ease of Customization, etc. All features work well together and build up a fantastic WooCommerce WordPress theme for hand tool & equipment websites – Allegro. Let's explore them in detail to see how great they are!
Explore features via Video Demos
#1. Flexible Mega Menu Builder
Allegro WooCommerce WordPress Theme for Hand Tool & Equipment Stores helps you display your desired navigation system on any device. With the powerful Mega Menu Builder, you definitely can organize your navigation in a smart way. Display navigation system professionally in both vertical and horizontal direction!
#2. Slider Revolution Integration
Allegro integrates with Slider Revolution plugin to help you create beautiful slides showing off your content and product features smoothly.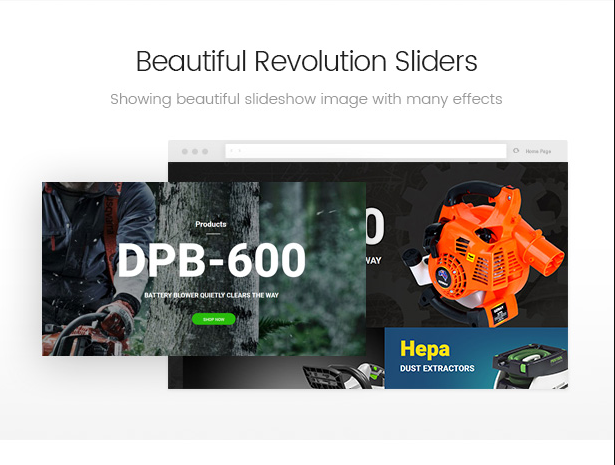 #3. Impressive Single Product View
Catch your customers eyes at the first time with Allegro the elegant WordPress theme for hand tools & equipments stores. Your customers will get a wonderful experience with appealing feel and special look of each product in detail.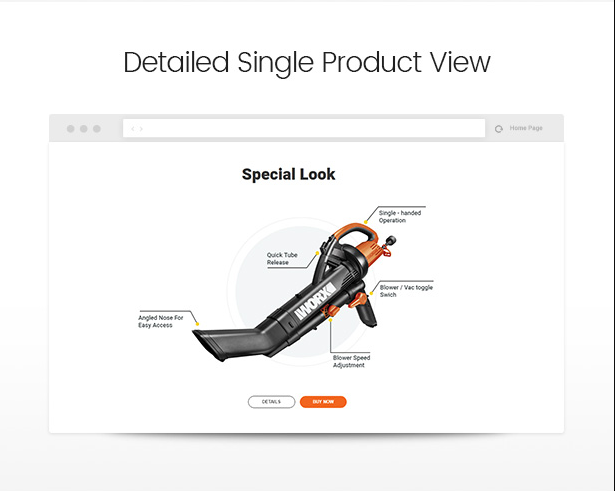 #4. Professional Blog Page Layouts
With well-organized and functional blog page layouts, the ultimate eCommerce WordPress theme allows you to build professional blog page for sharing products and knowledge.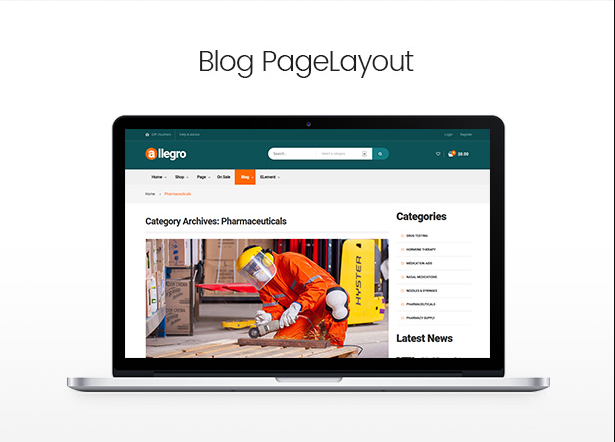 #5. Attractive Category Page
With Allegro, it's more convenient for shoppers to search a specific item based on its category. The category page is well built to showcase machine equipments and hand tools smartly and effectively.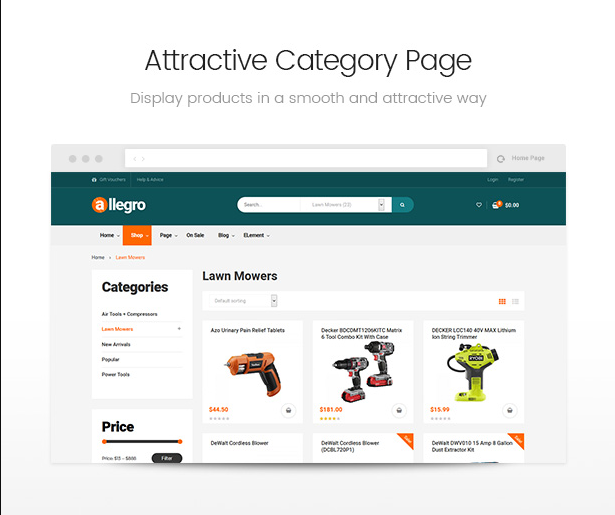 #6. Quick View Product
One of advanced features that Allegro the best WooCommerce WordPress Theme for Hand Tools & Equipment Stores brings you is quick view product. Whenever customers get curious about a particular item, as soon as they click on that product, a popup will appear for a quick view. The intuitive interface with full product details will drive customers surprised!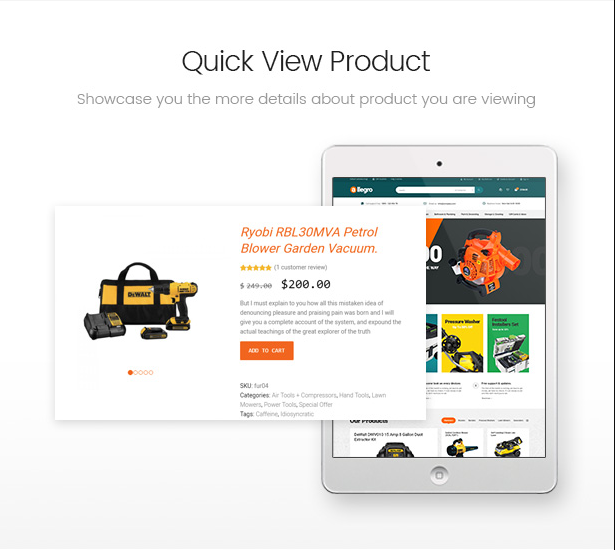 #7. Catchy Single Product Page
The powerful hand tools & equipments WordPress theme Allegro will make your products outstanding in each single product page. The subtly combination of creative design and block arrangement creates explosive product pages with eye-catching and fully functional illustration.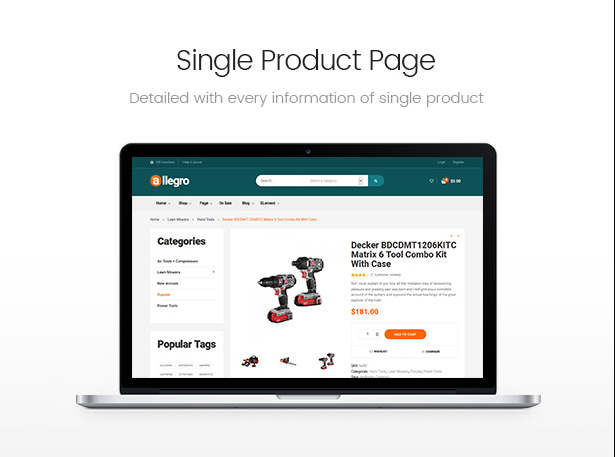 #8. Advanced Image Zoom
In the product page, customers can zoom the product images to take a clear and detailed view. Allegro makes everything simple but impressive. Also, your customers can fall in love with items by each minor detail.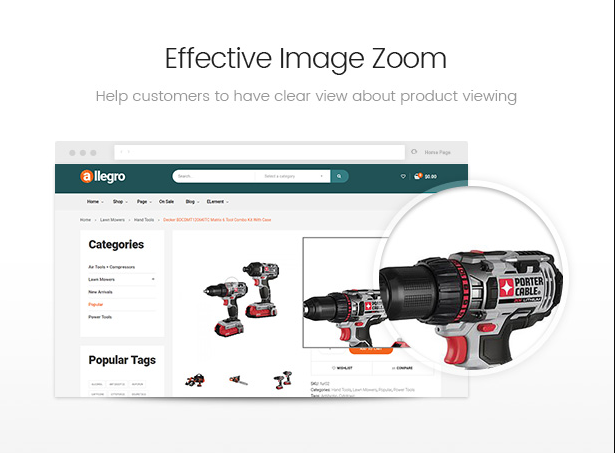 #9. Fast Search & Filter
Allegro WooCommerce WordPress Theme for Hand Tool & Equipment Stores comes with quick search and filter. Customers can find out wanted products by filtering the price bar in the collection.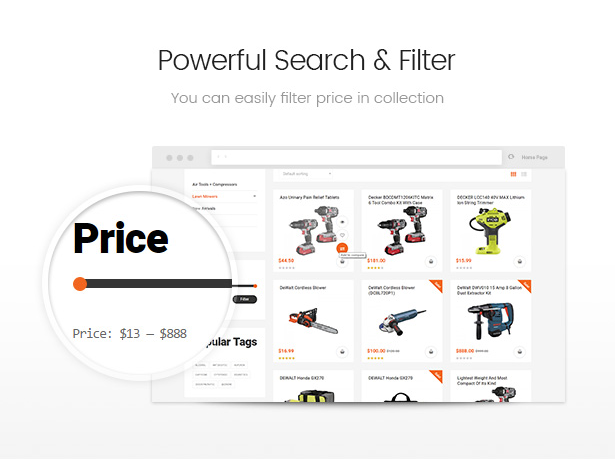 #10. Powerful One-click Import Tool
The 1-click installation allows you to build any demo with just 1 click. The Multipurpose WordPress Theme is easy customized based on the intuitive theme control panel that includes lots of useful options to manage your site.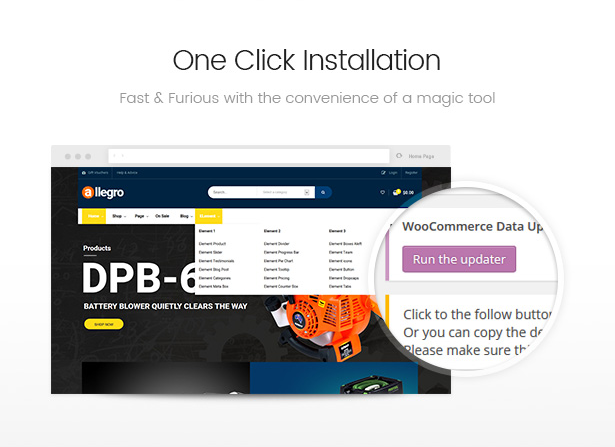 #11. Ease Of Customization
With WordPress customizer, you can configure the theme via multiple WordPress options such as Main options, Side area options, Social Link, Post list options, WooCommerce options, Portfolio options, Styling options, Layout settings, Footer section options, and Header section options. Specially, no code is required!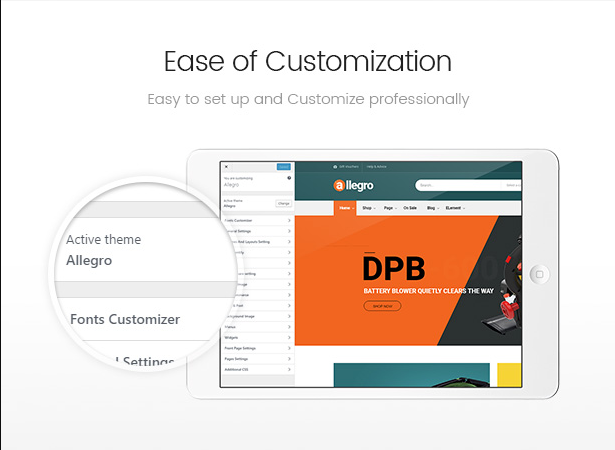 User-friendly Allegro Equipment WooCommerce WordPress Theme
Notably, it's super easy to install, config and update the theme because we provide the detailed documentation and useful video guides of Set up & Easy Install any WooCommerce Theme Demo in your website store.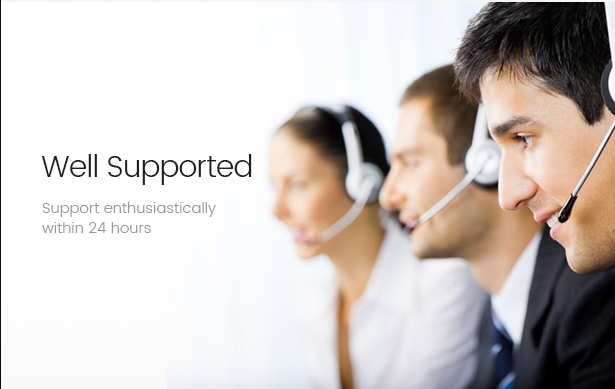 Impressively with Responsive & Retina Design, UX SEO Friendly, Flexible Theme Setting, Unlimited Color Options, Mobile Optimized & Highly Conversion Rate Optimization, Allegro is an ideal WordPress theme for ecommerce websites of hand tools, machine equipments, carpentry, remodelling & renovation, and construction.
PORTFOLIO'S SHOWCASE
Check out some of good websites built from our Allegro WordPress Theme.
#1. Controls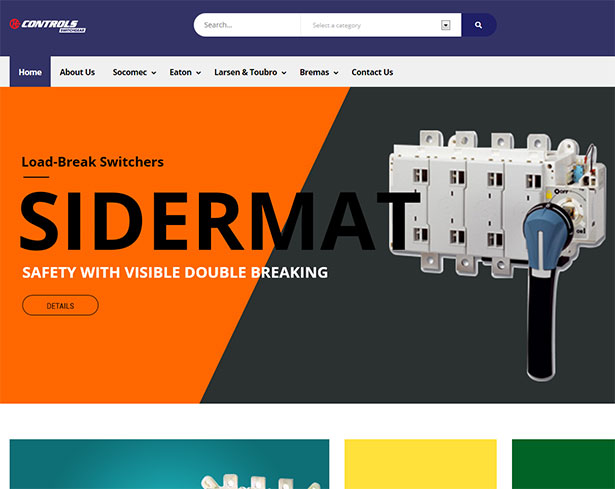 #2. Rhinomachinery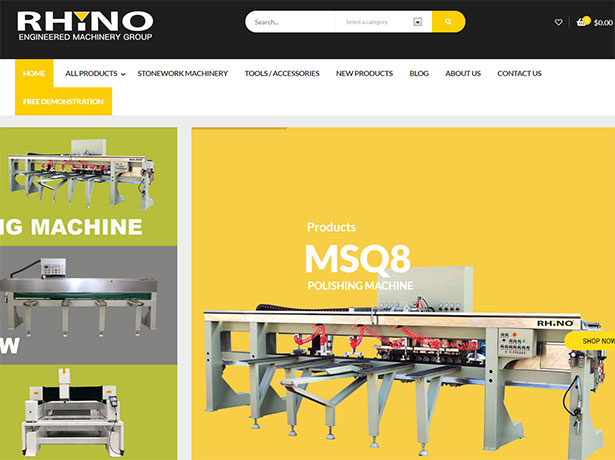 #3. Krausmann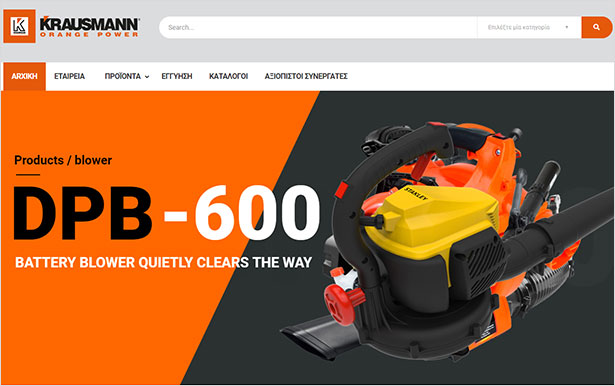 If you don't believe about these things, please spend a little time visiting and experiencing with its interest and greatness! Don't forget to rate us 5 stars if you like it.
POWERFUL FEATURES
Built on King Composer most awesome visual page builder for WordPress
5 Homepage Laypouts variations
Integrated Mega Menu Module With Lightweight Megamenu Editor Tool
Contact Form 7 Included
WordPress 4.9 tested and approved
Premade widgets to build content easier
Built with Bootstrap 3, HTML5 and CSS3
Clean, modern, multi-purpose design can be used for any type of website
Elaborated clean code for your convenience
Cross-browser compatibility: Chrome, FireFox, Safari, Opera, IE10
Totally responsive design
Understandable and easy Visual Page Builder
Different sidebars variations
Amazing parallax effects both on rows and content
Fast and perfect performance while viewing
Compatible with popular plugins
EASE OF CUSTOMIZATION
WordPress Customizer Supported: allow you configuring theme's functions via WordPress options. No need any Theme Options
Customizer allow to customize your site: Main options, Side area options, Social Link, Post list options, WooCommerce options, Portfolio options, Styling options, Layout settings, Footer section options, Header section options
Advanced options to enable/disable individual features
Full control over site width (full-width or boxed), content area and sidebars
Revolution slider included with updates provided
Fast and convenient Visual Builder
Vector icons for perfect retina design
Numerous background options: add parallax background images to Rows, style Menus, add as Header background, boxed content background or Client logos
Top page additional styling possibilities
Stunning Header styling variations
Footer builder function
Unlimited button styles: you set the height and the shape of the button manually, also additional CSS rules allow even more options
Touch friendly interface for your convenient usage on smartphones and tablets
Fully responsive design
Sidebar generator allows you to create the unlimited number of sidebars to your taste
Select Main/Second site color for easy customize tools
DEMO CONTENT
Easy demo import by using XML file
Beautifully designed Apps Landing Page, Testimonials, Contacts, Forum and 404 pages
SUPPORT
Enjoy all the advantages even of Pre-sale support
Free updates of all plugins included
Theme documentation included and updating
Contact us via one of our channels. Help Desk, leave comments on the Dashboard or for fast reply write an E-mail.
You can also suggest a new layout
Our support channels:
Change Logs
--- 3.5.1 (02.15.2018) ---
update this theme working with woocommerce version 3.3.1. pls get folder woocommerce to update for yours

Version: 1.1 Updated 10-April-2017

- Updated woocommerce 3.x
Changed file:
/themes/allegro/woocommerce/content-product.php
/themes/allegro/js/woocommerce.js
/themes/allegro/style.css
/themes/allegro/woocommerce/cart/cross-sells.php
/themes/allegro/woocommerce/checkout/form-checkout.php
/themes/allegro/woocommerce/checkout/form-shipping.php
/themes/allegro/woocommerce/loop/add-to-cart.php
/themes/allegro/woocommerce/loop/rating.php
/themes/allegro/woocommerce/single-product/related.php
/themes/allegro/woocommerce/single-product/up-sells.php
/themes/allegro/languages/allegro.pot
/themes/allegro/content-blogv1.php
/themes/allegro/css/ie.css
/themes/allegro/css/prettyPhoto.css
/themes/allegro/css/rtl-style.css
/themes/allegro/css/skins/green/rtl-style.css
/themes/allegro/css/skins/green/style.css
/themes/allegro/css/skins/lemon_black/rtl-style.css
/themes/allegro/css/skins/lemon_black/style.css
/themes/allegro/css/skins/lemon_blue/rtl-style.css
/themes/allegro/css/skins/lemon_blue/style.css
/themes/allegro/css/style.css
/themes/allegro/inc/custom-header.php
/themes/allegro/inc/functions-import.php
/themes/allegro/js/jquery.prettyPhoto.js
/themes/allegro/kingcomposer/element_blog_posts.php
/themes/allegro/kingcomposer/element_menuvertical.php
/themes/allegro/kingcomposer/woo_carousel_products.php
/themes/allegro/kingcomposer/woo_carousel_products_v2.php
/themes/allegro/kingcomposer/woo_deal_products.php
/themes/allegro/page-templates/parts/vertical.php
/themes/allegro/widgets/contact-info/default.php
/themes/allegro/widgets/latest_posts/default.php
/themes/allegro/widgets/socials/default.php
/themes/allegro/woocommerce/cart/cart.php
/themes/allegro/woocommerce/content-products.php
/themes/allegro/woocommerce/content-widget-product.php
/themes/allegro/inc/vendors/kingcomposer/functions.php
/themes/allegro/inc/vendors/woocommerce/functions.php
/themes/allegro/sass/components/vars/_nav.scss
/themes/allegro/woocommerce/cart/mini-cart.php
/themes/allegro/woocommerce/content-product-inner-list.php
/themes/allegro/woocommerce/content-product-inner.php
/themes/allegro/woocommerce/content-product-list.php
/themes/allegro/woocommerce/single-product/product-image-carousel.php
/themes/allegro/woocommerce/single-product/review.php
/themes/allegro/woocommerce/single-product-reviews.php

02 – Mar – 2017: Update fully customize color

/themes/allegro/css/custom-admin.css
/themes/allegro/css/editor-style.css
/themes/allegro/css/font-awesome.min.css
/themes/allegro/css/ie.css
/themes/allegro/css/prettyPhoto.css
/themes/allegro/css/rtl-style.css
/themes/allegro/css/skins/green/rtl-style.css
/themes/allegro/css/skins/green/style.css
/themes/allegro/css/skins/green/woocommerce.css
/themes/allegro/css/skins/lemon_black/rtl-style.css
/themes/allegro/css/skins/lemon_black/style.css
/themes/allegro/css/skins/lemon_black/woocommerce.css
/themes/allegro/css/skins/lemon_blue/rtl-style.css
/themes/allegro/css/skins/lemon_blue/style.css
/themes/allegro/css/skins/lemon_blue/woocommerce.css
/themes/allegro/css/style.css
/themes/allegro/css/woocommerce.css
/themes/allegro/customizer.xml
/themes/allegro/functions.php
/themes/allegro/inc/custom-header.php
/themes/allegro/inc/customizer-config.php
/themes/allegro/inc/customizer.php
/themes/allegro/js/customizer.js
/themes/allegro/languages/allegro.pot

21 – Feb – 2017: Update bug style for blog and hover minicart

/themes/allegro/content-blogv1.php
/themes/allegro/woocommerce/cart/mini-cart-button.php