Baggies – WooCommerce Marketplace Themes
Download Now      Price : $35     View Demo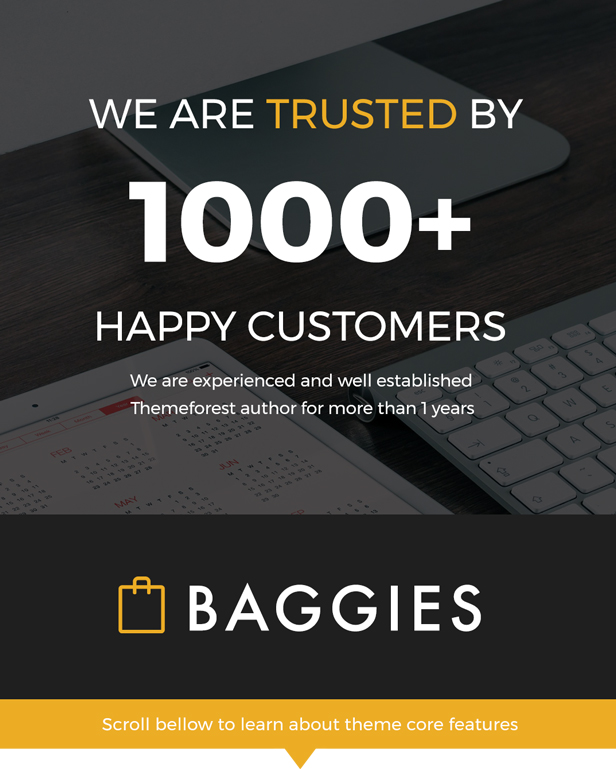 DEMO 1 : Dokan Multivendor

DEMO 2 : WC Vendors

DEMO 3 : WooCommerce Product Vendor


WooCommerce Video Tutorial
About Baggies
Are you looking for a powerful WooCommerce WordPress theme to set up your online store ? Baggies, a stunning, fully customizable web solution designed to take your online store, marketplace, portfolio, or blog to the next level.
You can choose from 7 predefined homepage layouts, 5 predefined portfolio layouts and many more. or build your own using Visual Composer, a powerful drag-and-drop page builder that enables you to build custom web pages from scratch in a matter of minutes, without having to write a single line of code.
More About Features Detail
7 Predefined Homepage Template
4 Predefined Portfolio Template
Marketplace Page
Blog Page
5 Header Variation – Can be implemented for each page
10 Post Format Support ( We?ve designed Baggies to support WordPress Post Formats with beautiful style in each format )

Standard
Aside
Audio
Chat
Gallery
Image
Link
Quote
Status
Video
You can also embed Twitter, Instagram, SlideShare on your Post Format Status.

Page Templates
Unlimited Sidebars  (You can also add any custom sidebar on your Post/Page using built in Sidebar Generator)
18 Custom Widgets:

Widget Tokoo – 500px Photo Slides
Widget Tokoo – Advanced Categories
Widget Tokoo – Banner Image / Advertisement
Widget Tokoo – Contact Info
Widget Tokoo – Facebook Fans
Widget Tokoo – Flickr Photo Grid
Widget Tokoo – Flickr Photo Slides
Widget Tokoo – Instagram Photo Grid
Widget Tokoo – Instagram Photo Slides
Widget Tokoo – Login Form
Widget Tokoo – Mailchimp Subscribe Form
Widget Tokoo – Post Type List
Widget Tokoo – Recent Comments with avatar
Widget Tokoo – Recent Tweets
Widget Tokoo – Social Connect
Widget Tokoo – Testimonials
Widget Tokoo – Themeforest Item
Widget Tokoo – Video

Customizeable

Upload Logo
Upload Favicon
Custom Background
Custom CSS field (Allow you to add your own style without editing style.css direcltly)

Built in Megamenus
Sticky Header
Collapsed Header ( Can be customized each page )
Responsive
Threaded Comments
Built-in pagination
Built in Breadcrumb
Revolution Slider included ? $19 value

Sliders can be set up for each page
100% fully responsive & swipe enabled
Choose between 24 different transitions for each slide
Youtube & Vimeo videos support
Set slider controls, animation times, shadows, thumbnails and much more?
Drag & Drop captions
Unlimited slides

Visual Composer plugin with frontend and backend editor included ($28 value)
Ninja Form included
Koo Shortcodes included

Accordions
Alerts
Button
Box
Columns
Highlight
Tabs
Toggle
Leading
Dropcap
Pullquote

SEO Optimized
Social Share button
Child Theme Support
Support the latest WordPress version
Dummy Data Included
Translation Ready (.po/.mo Files included for easy translation)
Well Documented
Cross-Browser Compatible
Valid W3C HTML5 & CSS3
Support WPML 
Video tutorial ready
Free Theme Updates
RECOMMENDED PLUGINS
We recommend you to install several plugins below to speed up your website installation :
Notes
Image credit : Nod Young
Sample demo contents are included into the package. Images which are used in preview ARE NOT included in the theme package.
Changelog

3.9.1 - 06-02-2020
- Fix outdate template WooCommerce 3.9
- Update style wishlist page

3.9 - 30-08-2019
- Remove custom template thankyou page woocommerce
- Update WPBakery Page Builder (Visual Composer) v6.0.5
- Update Revoslider plugin to the latest version v6.0.9
- Update Tokoo Vitamin Plugin
- Add Baggies Addon Plugin

3.8.1 - 23-04-2019
- Fix outdate template WooCommerce 3.6
- Update WPBakery Page Builder (Visual Composer) v5.7
- Update Revoslider plugin to the latest version v5.4.8.3

3.8 - 07-12-2018
- WPBakery Page Builder (Visual Composer) v5.6, compatible with WordPress 5.0
- Update Revoslider plugin to the latest version v5.4.8.1

3.7.4 - 09-11-2018
- Fix outdate template WooCommerce 3.5.1

3.7.3 01-08-2018
- Contact Template - Google Maps - option to use Embed Map without API key
- Contact Template - Google Maps - option to change map height (px)
- Compatible with Ninja Form 3.0

3.7.2 - 30-07-2018
- Fix Mini Cart in Mobile View

3.7.1 - 25-05-2018
- Fix outdate template WooCommerce 3.4.0

3.7 - 22-02-2018
- Fix outdate template WooCommerce 3.3.1
- compatible with Dokan lite Version 2.7.7 

3.6 - 13-12-2017
- add mail and youtube options in social account settings
- fix google maps in ssl mode

3.5 - 16-10-2017
- Fix outdate template WooCommerce 3.2.0

3.4 - 17-04-2017
- Fix category display woocommerce
- Fix outdate woocommerce template

3.3 - 06-04-2017
- Add compatibility to WooCommerce 3.0

3.2 - 23-11-2016
- Update Revoslider plugin to the latest version v5.3.0.2
- Update Visual composer plugin to the latest version v5.0.1

3.1 - 13-09-2016
- Update tokoo-vitamins to the v6.1
- Move oneclick importer to the tokoo-vitamins
- Update Revoslider plugin to the latest version v5.2.6
- Update Visual composer plugin to the latest version v5.2.6
- Update TGM plugin activation to v2.6.1

3.0 - 08-08-2016
- Support WooCommerce 2.6.x
- Add One click demo importer feature
- Add automatic update feature
- Change autoload using new system
- Remove sidebar generator core function and replace it with plugin.

2.0.9 - 24-05-2016
- add support to WooCommerce Awesome badge plugin
- fix pagination in store list page template

2.0.8 - 04-05-2016
- Update Revoslider plugin to the v5.2.5.1

2.0.7 - 22-04-2016 
- Update Visual Composer to the v4.11.2.1
- fix user custom menu icons

2.0.6 - 18-04-2016
- Fix search form translation
- Fix single product string translation
- Update Revoslider plugin to the v5.2.5
- Fix several css issue
- Update tokoo-vitamins plugin to the latest version

2.0.5 - 23-03-2016
- Update Visual Composer to the v4.11.1
- Update Revoslider plugin to the v5.2.3.5
- Fix variable product button class
- Update dokan template

2.0.4 - 26-02-2016
- Provide Custom user menu for Logged in buyer user , seller user and non logged in user. 
- Fix Store header wc vendor pro version 1.2.2
- Fix Review page dokan Template
- Update Visual Composer plugin to v4.10

2.0.3 - 11-02-2016
- Compatible with WooCommerce 2.5.2

2.0.2 - 02-02-2016
- Provide Shop page with sidebar layout setting
- Provide Custom user menu for Logged in user and non logged in user. 
- Integrate dokan widget to visual composer element

2.0.1 - 19-01-2016
- Compatible with WooCommerce 2.5.0
- Update visual composer plugin to v4.9.2

2.0 - 12-01-2015
- Update revoslider to the latest version v5.1.6
- Fix megamenu issue
- Add block link to product overlay

1.0.9 - 04-12-2015
- Fix product page categories display
- Update vc_row template 

1.0.8 - 29-12-2015
- Fix responsive issue in checkout page.
- Update Toggle menu style in mobile

1.0.7 - 28-12-2015
- Fix Quick view issue in mobile devices.
- Update visual composer to the latest version v4.9.1

1.0.6 - 16-12-2015
- Update tokoo-vitamins to v3.1
- Update Visual Composer plugin to v4.9
- Fix wordpress menu manager issue.

1.0.5 - 04-12-2015
- Fix dokan term and conditions template
- Update tokoo-vitamins plugin to the latest version v3.0
- Compatible with plugin YITH Social Login
- Add ion icon and themify to the vc icons element
- Fix single product double quantity label.

1.0.4 - 16-11-2015
- Add page template shop with sidebar
- Add filters for sidebar toggle icon. so user can change it from child theme.
- Update revoslider to the v5.1.2

1.0.3 - 30-10-2015
- Update visual composer to the latest version v4.8.0.1
- Update tokoo-vitamins to the v2.0
- Fix contact maps display issue
- Fix dokan dashboard page issue.

1.0.2 - 07-10-2015
- Fix top menu issue.
- Update Revoslider to the latest version v5.0.9
- Update Visual Composer to the latest version v4.7.4

1.0.1 - 03-10-2015
- Fix undefined function in dokan store
- Update Visual Composer plugin to the latest version v4.7.4

1.0
- Initial Release