Fshow – WooCommerce Responsive WordPress Theme
Download Now      Price : $59     View Demo
FSHOW – Modern Multipurpose eCommerce WordPress Theme is built with WooCommerce platform. The theme comes with 4 amazing pre-built sites with different design concept, layout, style and color. FSHOW is fully responsive, every single element is designed to have outstanding look and feel in all popular devices: Desktop, Tablet and Mobile.
The WooCommerce theme has it own intuitive theme control panel that includes lots of built-in functionality to manage your site. It includes lots of additional pages: Portfolio, Blog … and pre-built shortcodes to build content easier. The Live Theme Editor is to customize theme with pre-defined parameters.
The WordPress theme includes the best plugins to give you more power to build content and customize the theme – Slider Revolution (save you $18) and the amazing WordPress builder – Visual Composer (save you $33).
CORE FEATURES

MORE FEATURES
Powerful WordPress theme
Built on Visual Composer most awesome visual page builder for WordPress
Integrated Mega Menu Module With Lightweight Megamenu Editor Tool
WordPress 4.9.x tested and approved, compatible with WP 4.0+
Built with Bootstrap 3, HTML5 and CSS3
Clean, modern, multi-purpose design can be used for any type of website
Elaborated clean code for your convenience
Cross-browser compatibility: Chrome, FireFox, Safari, Opera, IE10
Totally responsive design
Understandable and easy Visual Page Builder
Different sidebars variations
Amazing parallax effects both on rows and content
Fast and perfect performance while viewing
Compatible with many popular plugins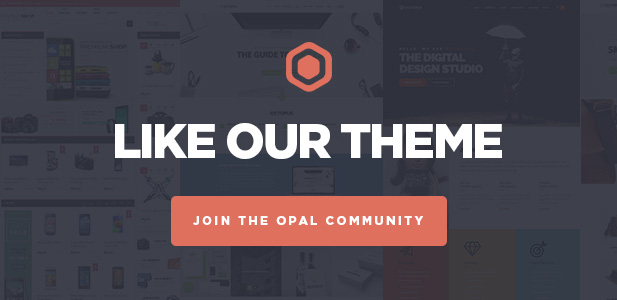 Ease of customization
WordPress Customizer Supported: allow you configuring theme's functions via WordPress options.
Customizer allow to customize your site: Main options, Side area options, Social Link, Post list options, WooCommerce options, Portfolio options, Styling options, Layout settings, Footer section options, Header section options
Advanced options to enable/disable individual features
Full control over site width (full-width or boxed), content area and sidebars
Revolution slider included with updates provided
Fast and convenient Visual Builder
Vector icons for perfect retina design
Numerous background options: add parallax background images to Rows, style Menus, add as Header background, boxed content background or Client logos
Top page additional styling possibilities
Stunning Header styling variations
Footer builder function
Unlimited button styles: you set the height and the shape of the button manually, also additional CSS rules allow even more options
Touch friendly interface for your convenient usage on smartphones and tablets
Fully responsive design
Sidebar generator allows you to create the unlimited number of sidebars to your taste
Select Main/Second site color for easy customize tools
Support when you need!
The theme comes with an extensive help file to help you understand how it works. Drop us a notice at: Submit A Ticket Now if you encounter any problem or have questions, you will be supported by our best WordPress developers who will help you solve any problem within 24 hours.
OUR SUPPORT CHANNELS: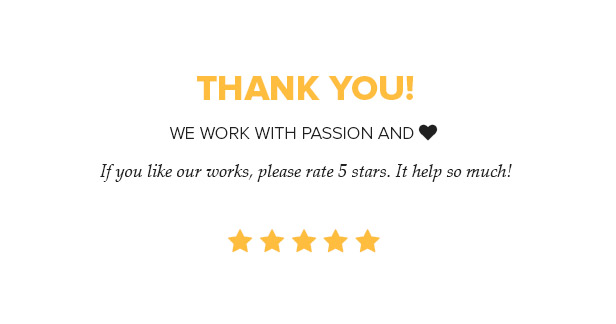 CUSTOMER'S SHOWCASE
Check out some of good websites built from FSHOW wordpress theme.
CHANGELOG:
8, June 2018
+ Update WooCommerce 3.4.2

Version: 1.2.1
Updated 26-Feb-2018

- Update woo 3.3.3
/themes/fshow/css/skins/orange/woocommerce.css
/themes/fshow/css/skins/red/woocommerce.css
/themes/fshow/css/skins/yellow/woocommerce.css
/themes/fshow/css/woocommerce.css
/themes/fshow/woocommerce.css
/themes/fshow/woocommerce/cart/cart.php
/themes/fshow/woocommerce/cart/mini-cart.php
/themes/fshow/sass/woocommerce/_styles.scss
/themes/fshow/css/custom-admin.css
/themes/fshow/css/editor-style.css
/themes/fshow/css/font-awesome.min.css
/themes/fshow/css/ie.css
/themes/fshow/css/prettyPhoto.css
/themes/fshow/css/rtl-style.css
/themes/fshow/css/skins/orange/style.css
/themes/fshow/css/skins/red/style.css
/themes/fshow/css/skins/yellow/style.css
/themes/fshow/css/style.css
/themes/fshow/inc/functions-import.php
/themes/fshow/inc/vendors/visualcomposer/class-vc-news.php
/themes/fshow/js/jquery.prettyPhoto.js
/themes/fshow/languages/fshow.pot
/themes/fshow/page-templates/parts/topbar-v2.php
/themes/fshow/page-templates/related_post.php
/themes/fshow/vc_templates/blog/special-1.php
/themes/fshow/vc_templates/blog/special-2.php
/themes/fshow/vc_templates/blog/special-3.php
/themes/fshow/vc_templates/pbr_all_products.php
/themes/fshow/vc_templates/pbr_brands.php
/themes/fshow/vc_templates/pbr_category_filter.php
/themes/fshow/vc_templates/pbr_category_list.php
/themes/fshow/vc_templates/pbr_portfolio.php
/themes/fshow/vc_templates/pbr_productcategory.php
/themes/fshow/vc_templates/pbr_products.php
/themes/fshow/vc_templates/pbr_tabs_products.php
/themes/fshow/vc_templates/pbr_testimonials.php
/themes/fshow/vc_templates/pbr_title_heading.php
/themes/fshow/vc_templates/pbr_verticalmenu.php
/themes/fshow/widgets/recent_post/carousel.php
/themes/fshow/widgets/recent_post/default.php
/themes/fshow/widgets/recent_post/stick.php
/themes/fshow/widgets/socials/default.php
/themes/fshow/woocommerce/cart/mini-cart-button-v4.php
/themes/fshow/woocommerce/content-product-info-list.php
/themes/fshow/woocommerce/content-product-info.php
/themes/fshow/woocommerce/content-products.php
/themes/fshow/woocommerce/widget-products/list-v1.php

--- 3.5.1 (02.14.2018) ---
update this theme working with woocommerce version 3.3.1

Version: 1.1 Updated 20-April-2017
- Update woocommerce 3.0.3
/themes/fshow/functions.php
/themes/fshow/header-v1.php
/themes/fshow/header-v2.php
/themes/fshow/header-v3.php
/themes/fshow/header-v4.php
/themes/fshow/header.php
/themes/fshow/inc/classes/nav.php
/themes/fshow/inc/function-load-vendor.php
/themes/fshow/inc/vendors/woocommerce/function-hook.php
/themes/fshow/inc/vendors/woocommerce/function-logic.php
/themes/fshow/js/functions.js
/themes/fshow/js/woocommerce.js
/themes/fshow/style.css
/themes/fshow/woocommerce/cart/cart.php
/themes/fshow/woocommerce/content-product.php
/themes/fshow/woocommerce/loop/loop-start.php
/themes/fshow/woocommerce/single-product/add-to-cart/grouped.php
/themes/fshow/woocommerce/single-product/add-to-cart/simple.php
/themes/fshow/woocommerce/single-product/related.php
/themes/fshow/css/rtl-style.css
/themes/fshow/css/skins/orange/style.css
/themes/fshow/css/skins/red/style.css
/themes/fshow/css/skins/yellow/style.css
/themes/fshow/css/style.css
/themes/fshow/inc/vendors/woocommerce/class-woocommerce.php
/themes/fshow/sass/components/_template-layout.scss
/themes/fshow/sass/components/_widgets.scss
/themes/fshow/vc_templates/pbr_product_deals.php
/themes/fshow/vc_templates/pbr_products_onsale.php
/themes/fshow/woocommerce/cart/cross-sells.php
/themes/fshow/woocommerce/cart/mini-cart.php
/themes/fshow/woocommerce/checkout/form-checkout.php
/themes/fshow/woocommerce/checkout/form-shipping.php
/themes/fshow/woocommerce/content-product-deal.php
/themes/fshow/woocommerce/content-product-info-list.php
/themes/fshow/woocommerce/content-product-info.php
/themes/fshow/woocommerce/content-product-inner-list.php
/themes/fshow/woocommerce/content-product-inner.php
/themes/fshow/woocommerce/content-product-list.php
/themes/fshow/woocommerce/content-product_cat.php
/themes/fshow/woocommerce/content-single-product.php
/themes/fshow/woocommerce/content-widget-product.php
/themes/fshow/woocommerce/loop/add-to-cart.php
/themes/fshow/woocommerce/loop/rating.php
/themes/fshow/woocommerce/quickview.php
/themes/fshow/woocommerce/single-product/add-to-cart/variable.php
/themes/fshow/woocommerce/single-product/product-image-carousel.php
/themes/fshow/woocommerce/single-product/up-sells.php
/themes/fshow/woocommerce/single-product-reviews.php
/themes/fshow/woocommerce/widget-products/list-v1.php

Version 1.0.1 – Updated 15 Jun 2016
Updated to compatible with WooCommerce 2.6 , Revolution Slider 5.2.5.4 , Visual Composer 4.12
Version 1.0.0 – Updated 23 Jan 2016
Release Fshow WooCommerce WordPress Theme