Uneno – Kids Clothing & Toys Store WooCommerce Theme
Download Now      Price : $59     View Demo
Would you like to make a joyful website for kids clothing or toys business ?
Kids love colors and toys. If you are looking to take your/your client's kids clothing or toys business online, it is important that the website you build reflects what kids love. We've built this theme to help you do just that. Our Kids Clothing and Toys Store theme, Uneno, is a very colorful theme with clean layout and kids friendly fonts. It sets a joyful mood for your website encouraging visitors to your website to feel at home.
From the makers of Tokoo – Electronics Store WooCommerce Theme for Affiliates, Dropship and Multi-vendor Websites, we present Uneno, a joyful theme for your kids business with clean and colorful.
Uneno Features
5 Different Home Pages with 16 different Blocks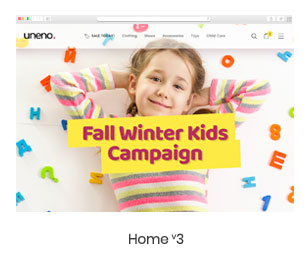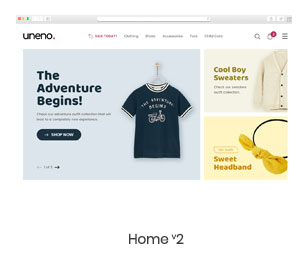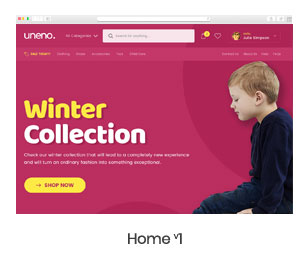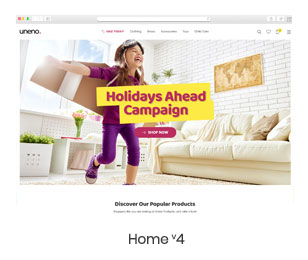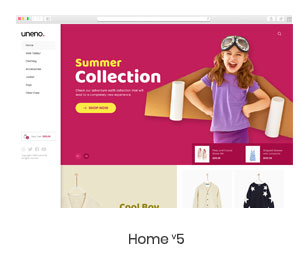 We've included 5 different home page templates and 16 blocks for you to choose from to build your perfect home page. Our theme is compatible with Elementor, one of the most popular page builders, to let you choose between various blocks. You can also use custom coding to achieve the same results.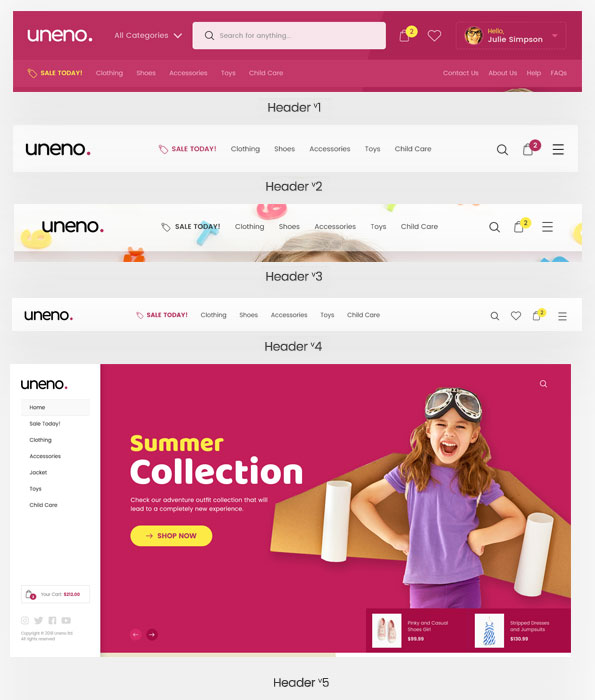 We've built Uneno with 5 different header styles and a dedicated header for mobile. The header consists of well-structured navigation, search bar, header icons for quick access to important pages as well as your brand logo. We've also built a dedicated mobile header so that your website when viewed on mobile looks just like an app.
Uneno comes with 3 different footers. Footers can have quick links, payment information and contact information. It also has newsletter and other brands blocks. These blocks and widget areas give your website a classic look.
Compatible with Elementor

Elementor is the most popular page builder for WordPress. Our theme is compatible with Elementor. With this plugin you can now easily build your home page with native widgets as well as additional elementor widgets provided by our theme.
5 Pre-defined colors or choose your own
Uneno comes with 5 pre-defined colors. It also has a color picker option to let you choose your own color that best suits your branding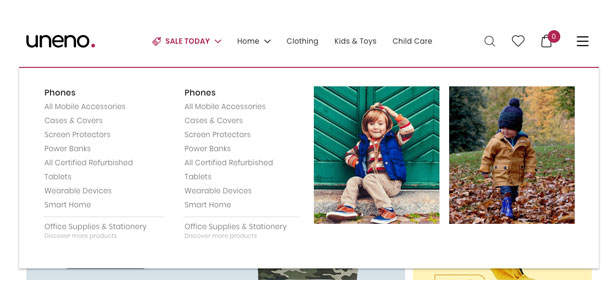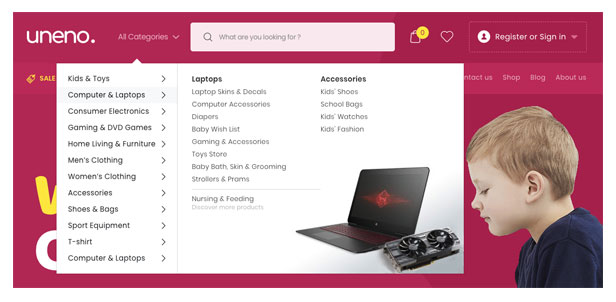 Building megamenus are easy with our theme and does not require third-party plugins. We've included both a vertical and horizontal megamenus. Our dummy content follows the megamenu style of most popular eCommerce websites. You can use them as a starting point to build your own stylish megamenu.
One Click demo Import
Usually one click imports require you to import sliders separately. However we've made Uneno truly one-click. All you need to do is click the button ones and wait for the importer to import images and sliders. No additional steps required.
Other Information about Uneno
Trial & Dummy Data
We encourage you to try our theme before purchase. Please reach out to us via our support tab and we'll setup a trial for you.
A word about the Dummy Data. Once you import the dummy data provided with the download package, you will get a website similar to this : https://demo.madrasthemes.com/uneno/
This is with placeholders and default WooCommerce products. It does not include the preview images.
Uneno Documentation
You can view our Uneno Documentation here : https://docs.madrasthemes.com/uneno/
You can checkout our video guides here : https://www.youtube.com/channel/UChl9_bo48SEcl5O0ztc8Scw
Help & Support
Generally the comments section is reserved for pre-sales questions and questions that does not require much technical help. For better response and management of support request please create a new support request by contacting us via support tab. Our usual response time is 1 business day. We are closed on Saturdays and Sundays which are weekends. Due to different timezones, a request raised on Friday evening may be answered on Monday ( 3 days ).
Please note that the comments section and support email are our only support channels. Please do not use Envato form to send support requests.
Demo Pages
Home Pages
Shop Pages
Blog & Static Pages
Release History
v1.0.9 – 2020-03-16

Feature : Compatible with WooCommerce 4.x
Update  : Slider Revolution - 6.2.2
Update  : Translations
Update  : Audit fix for included packages

v1.0.8 – 2020-02-21

Feature : WPForms Integration
Feature : Compatible with WooCommerce 3.9.x
Update  : Updated dummy data for WPForms
Update  ; Slider Revolution - 6.1.8

v1.0.7 – 2019-09-05

Update  : Slider Revolution - 6.1.1
Fix     : Fixed issues with Elementor pages
Fix     : Single product review consent checkbox
Fix     : Mobile header issues
Fix     : Header v2 mini cart
Fix     : Elementor product issues

v1.0.6 – 2019-05-09

Update  : Newsletter form can now use shortcodes
Fix     : Toggle Icon in Header v2

v1.0.5 – 2019-05-06
Update  : Updated Slider Revolution to v5.4.8.3
Fix     : Fixed an issue with zoom icon

v1.0.4 – 2019-02-05
Update  : Updated Sliders with primary color instead of solid color
Fix     : Store Notice
Fix     : Mobile view scroll bar

v1.0.2 – 2019-01-22
Feature : Compatibility with JetPack Lazy Loading
Update  : Linkable header logos
Update  : Updated Slider with links
Update  : Removed slider notices

v1.0.1 – 2019-01-16
Feature : Added separate logo options for mobile, footer and blog
Fix     : Added missing translate text to pot     

v1.0.0 – 2019-01-11
Initial Release